New publication:
Enhancing iteration performance on distributed task-based workflows
Innovative HPC workflows for industry
Munich, 25 October 2023
The third edition of the eFlows4HPC workshop titled "Innovative HPC Workflows for Industry" organized at the German incubator Munich Urban Colab in Munich (Germany) pretended to bridge the gap...
read more
The workshop "HPC Workflows for Scientific Applications," seeks to unite scientists and industry experts across diverse scientific domains , including AI, cosmology, engineering, combustion, and computational fluid dynamics (CFD).

EFlow4HPC experts will participate on Sunday, 12 November from 2:42pm - 3pm MST (room 501-502) at the session titled "End-to-End Workflows for Climate Science: Integrating HPC Simulations, Big Data Processing, and Machine Learning" during the SC23...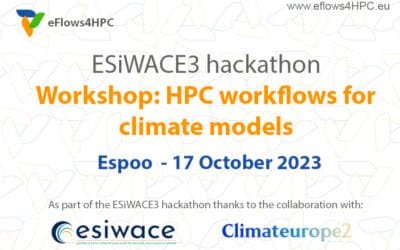 In collaboration with ESiWACE3 and Climateurope 2 projects, the community workshop titled "HPC workflows for climate models" aims to find synergies between the eFlows4HPC and the climate community from the above mentioned projects. This free one-day workshop is...
Creating a European workflow platform to enable the design of complex applications that integrate HPC processes, data analytics and artificial intelligence
Eflows4HPC workflow platform
Developing methodologies to widen the access to HPC to selected user communities
Demonstrating new workflow technologies through manufacturing, climate and urgent computing for natural hazards use cases